Back on the bus and a fairly short drive to Florence. We stopped for lunch at an Autogrill and was surprised by the quality and quantity of food available.
We arrived mid afternoon and after checking in, headed out for a 2 hour walking tour with Robin. We walked around the main square where the gothic Duomo (Cathedral) is. We also walked down to the Uffizi gallery to see a number of statues by various Renaissance artists. Very cool to se a number of them just out in the open. Some of the statues are reproductions with the originals safely ensconced inside to preserve them, while others are the originals.
We ended our tour at the Accademia museum which houses Micaelangelo's David. It's an amazing work of art. 17 feet tall carved out of marble. It's something to behold for sure.
After the tour the group went for dinner and had a local specialty. Bistecca ala fiorentina. Tasty beef steak served on arugula and olive oil rosemary potatoes.
The next day was MUSEUM day. One of the benefits of the tour is we don't have to wait in line for anything. In fact, we were actually the very first group to visit the Uffizi gallery on Sunday. We had a local guide who was outstanding. The gallery is huge and contains some of the most important art in the world. there are over 40 rooms and dozens of collections. Our guide concentrated on a few of the key pieces and explained why they were important. It was the best museum experience Deanna and I have had. The pace was great, the content was amazing and we learned a lot.
To whet your appetite, here are a few of the pieces in the museum you'll most likely recognize: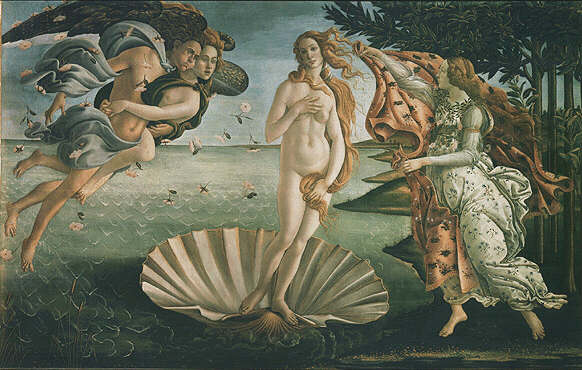 After the Uffizi tour we went on our own to the Galileo Science Museum . Another great museum filled with old medial instruments, maps. telescopes and a whole ton of really interesting things. It's well laid out, and has great descriptions. The web site is well done, I would recommend it if you're a science fan at all.
We wrapped up the morning with a walk over the very busy Ponte Vecchio bridge. It's the only bridge in Florence to survive the German retreat in WWII.
The group got together for a pot luck picnic dinner which was a lot of fun. Folks bought things from the markets, wine, cheese whatever and we sat outside and enjoyed a beautiful Florence evening.